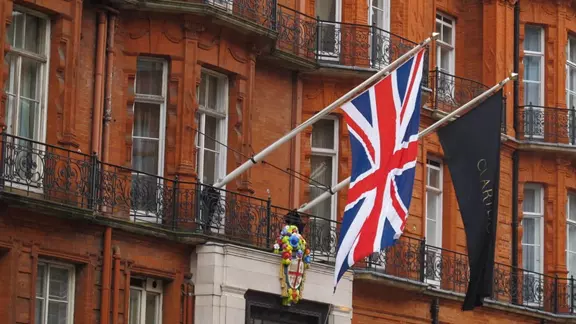 Welcome to Flagmakers.
We're the UK's trusted experts in bespoke flags and flagpole solutions. Having been established in 1837, our premium quality flags have adorned some of the finest locations in the world.
When you order a flag from Flagmakers, you're getting more than just a flag. You are dealing with one of the UK's longest established flagmakers, and can guarantee the expertise, care, and attention that goes into making each flag. We lovingly produce a huge range of standard and bespoke flags here in the UK and are pleased to help, whatever the request.
Not only do we produce excellent quality flags, but we also make and install everything that goes with them. Our expert team can advise at every step along the way as we manufacture, install and service flagpoles, outdoor display systems, and accessories and embellishments.
We're proud to work with some of the world's most renowned brands, providing clients across a wide range of industries with exceptional bespoke flag and flagpole solutions. Browse a selection of case studies featuring some of our most prestigious clients.
Makers of Bespoke Flags
We're proud to supply luxury hand-made flags for a huge variety of organisations. From local businesses and sports clubs, to some of the world's most recognisable brands, we work with our clients to create custom pieces that are the perfect fit for their flag needs.
Our team of highly skilled designers and experienced sales executives have an unrivalled expertise to and can find the best solution and product for you. Whether you need to stand out from the crowd at an event, catch the attention of passing trade, or brand up your sports club, we have a range of options to choose from.
From hand-painted and embroidered ceremonial flags, to sturdy and impactful advertising flags, we can assist you with anything you require.
View Custom Flags Range
Made-to-Order Flagpole Solutions
Create a meaningful first impression by flying your custom-made flag on top of a stunning bespoke flagpole. Choose a high-quality flagpole from a range of materials and mounting styles to erect a prestigious and strong welcome to your business. Whether you're welcoming people to a store, hotel or any other type of business, a flagpole can add emphasis to your message.
Our team of experienced flagpole specialists can assist with every aspect of your project. From initial design and flagpole selection, to executing installations and regular maintenance with our expert engineers. With Flagmakers you can be sure that we're ready to help everything you need, and you're guaranteed to get quality hardware and a first-class service.
View Flagpoles
Premium Quality National & Nautical Flags
We've been making flags and flagpoles since the 1830s and have always committed to provide products and hardware of the highest quality. Flagmakers is recognised as a gold member of the Flag Institute and accredited by the Flags & Heraldry Committee.
All flags are made using materials approved by the Ministry of Defence and meeting internationally recognised standards. Whether you're looking for a Union flag for an upcoming ceremony, nautical flags or are looking for a custom design to promote your business, we'll guarantee an excellent quality for your purchase.
View Flags Range
Always Quality
From planning and design all the way to servicing – quality is at the core of our business and present in every job we undertake.
Collaboration
We don't just sell products; we work closely with you on every stage of your project. Minimising your workload and maximising the results.
History, Heritage & Expertise
Established in 1837, we have developed unbeatable experience and trusted expertise across all industries and sectors.