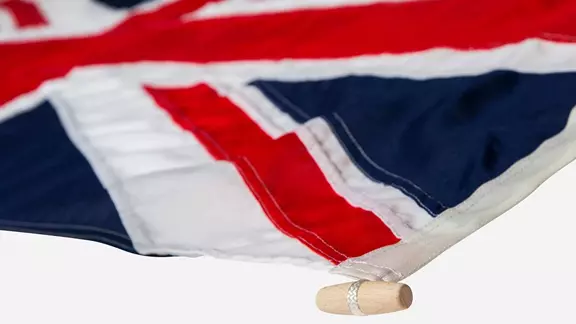 In a crowded high street or business park, it can be difficult to be noticed. Businesses are looking for a cost-effective way of making an impression and increasing their brand awareness. Custom corporate flags offer a sophisticated and easy-to-manage system to give your business recognition.
Create a bespoke corporate flag that can promote your brand with a high-quality finish in any shape, size, colour and design you can think of. From traditional corporate logos, to contemporary portrait designs, you can choose from endless options to create the look and feel you desire.
Fit to new or existing flag poles and grab your customer's eye with a dynamic and durable knitted polyester. The printing is UV stable and waterproof to ensure your brand is seen in all weathers.
Reasons For Flying A Corporate Flag
There are lots of reasons as to why you should fly a corporate flag. Some of the most popular reasons are to:
Advertise your Company
Promote your brand
Promote an event
Get found in a crowd
Stand out from the "rest"
Support, sponsor or associate yourselves with a charity or good cause
Corporate Flags Design Considerations
Where are you going to fly the Corporate flag?
At your or your clients / suppliers premises – If the flags are to be used at a fixed location and not moved then they can easily be tailored to the size and type of flag pole that is already in place.
Off-Site – For general use in many locations they can be finished so that they can be moved around and flown from all types of poles. They can also be designed to be used at other locations such as yacht masts or even tied to be used as a banner.
Size
How big should the flag be?
The bigger the flag is the more visible it will be but you should consider the size of pole and space available.
A good rule of thumb for Landscape flags is that the long edge of the flag should be 25% of the height of the pole, and the short edge is usually 50% the length of the long edge. For example an 8m pole would suit a 2m x 1m flag.
For Portrait flags the rule of thumb calculation is the long edge should be 33% pole height and the short edge 40% of the long edge.
However there is a tendency for corporate flags to be a bit oversize, to make them more visible. We wouldn't recommend more than 50% bigger than suggested above or it will look out of proportion.
The table below should be a useful guide to decide upon the size you require.
Designing your Corporate Flag
Elements to consider
Keep it simple – flags are for logos and symbols, not writing an essay.
Look at the proportions of your logo to consider how best to fit it on the flag size selected.
Make sure you have a good contrast in background colour. White is always a good option but it can get grubby after time in use.
Key elements:
Corporate logo
Simple text
Good choice of colours
Correct size for the flagpole
Reasonable proportions
Landscape or Portrait?
Both options are valid:
Landscape is the traditional format for a flag and it will match any national flags you fly with it.
Portrait flags tend to require less wind to fly and generally it is possible to fly a larger flag from a given pole size.
Prestige or Economy Flags?
There are several different flag making methods:
The traditional method is to sew on the design – a style called appliqué. This looks great and is still the most durable method.
For economy, particularly if you need lots of flags then printing is the option to choose. State of the art digital printing allows multi-coloured artwork without extra cost.
How Many Flags Do I Need?
It is good etiquette to always fly a flag from your pole, indeed government is actively encouraging us to fly flags regularly.
If you fly your flags 24/7 then you will need 3-4 flags per year as they will become worn. Please bear in mind 3 months of constant flying is around 3,000 hours exposed to the elements – no wonder they are ready for replacing after that time!
It is always cheaper to have a batch of flags printed in one go, even a couple of years stock is not excessive – and will save you a fortune in the long run too!
Hassle free installation
All flags are finished with a sturdy headband and fittings to make attachment to the pole quick and easy. Our team of highly skilled professionals can assist in erecting your flag and answer any technical questions you may have.
Fully Customisable
Ideal for complex arrangements and intricate logos, with bespoke flags you can choose any images, designs or patterns you desire. We're happy to help and advise you on 'How to Design Your Corporate Flag' and create a product that promotes your brand in the right way.
Premium Materials
Corporate flags made from high quality woven polyester to provide a durable and lasting fabric for your corporate flags. Choose from a variety of printing styles to get vibrant colours, intricate details, and a finish to suit your needs.