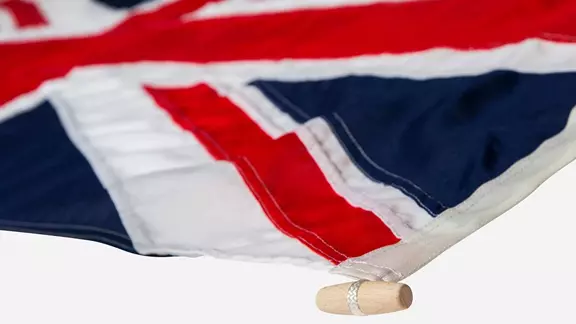 Whether you're trying to attract new customers, or get the attention of your existing audience, every message counts when promoting your business.  Brands and organisations from all industries choose Flagmakers to supply custom made advertising flags as an effective and affordable method of showcasing products, services, and promotions in an eye-catching and unforgettable way.
A bespoke advertising flag from Flagmakers promises an easy-to-manage solution that can attract patrons and increase brand recognition.
Any Design to Suit Your Business Needs
There are endless opportunities when it comes to designing your advertising flag. From an array of bold and vibrant colours, to designing a layout that fits with what you want to promote. Many of our customers choose a simple and elegant logo on a background of their brand colours, but we've also created unmissable promotional pieces which include images, text and more.
Our team of talented designers are ready to help and make sure your flag displays what is right for you. Our studio can help with design, makes fixes and amendments to ensure the best quality print, and will always provide a proof to double check you're happy with the way your flag will look.
Any Shape or Size You Need
However you want to advertise your business, we are confident that Flagmakers has a solution. From traditional landscape flags to banner-like vertical flags, we can produce custom designed pieces in a vast range of sizes to create the impression you want.
Flagmakers offer a variety of mounts that are suitable for all kinds of advertising. Choose from traditional ground or wall mounted flagpoles or opt for an alternative such as the bamboo pole of a festival flag, or an AirSpring post mount that meets EN40 Government Regulations.
Advertising Flags Made To Your Specifications
Flagmakers advertising flags are made to order and are guaranteed to meet your requirements. We make flags and displays that are suitable to fly both indoors and outdoors and can use our expertise and knowledge to advise on the best printing methods. Based on whether the flag is for a short term promotion or will be flown for a longer period as a way to boost brand awareness and reputation, our advertising flags are flexible and versatile, and suitable for whatever you need them to promote.
Why Choose Flagmakers' Advertising Flags?
Advertising flags are more than just a sign to use for your business. A custom-made advertising flag is an opportunity to convey a variety of messages about your business. Not only used to welcome customers to a location, but they can tell a story about the history and tradition of your brand. Promotional flags make an unmissable impression for a product or service that is guaranteed to be noticed.
Hassle free installation
All flags are finished with a sturdy headband and fittings to make attachment to the pole quick and easy. Our team of highly skilled professionals can assist in erecting your flag and answer any technical questions you may have.
Fully Customisable
Ideal for complex arrangements and intricate logos, with bespoke flags you can choose any images, designs or patterns you desire. We're happy to help and advise you on 'How to Design Your Corporate Flag' and create a product that promotes your brand in the right way.
Premium Materials
Corporate flags made from high quality woven polyester to provide a durable and lasting fabric for your corporate flags. Choose from a variety of printing styles to get vibrant colours, intricate details, and a finish to suit your needs.