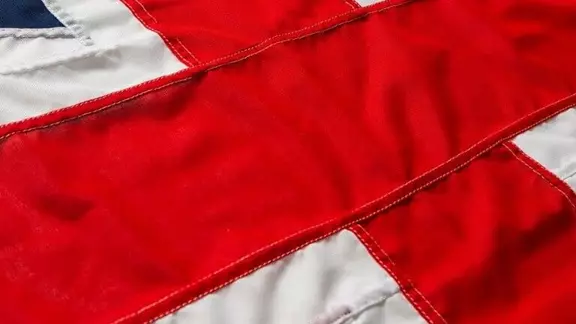 We began hand-making national flags in 1837. Now, as the UK's oldest and most respected flag maker, we provide high-quality flags for government buildings, embassies, and more.
All our flags arrive ready-to-fly. They're easy to attach with the finished rope and toggle, and a headband on the hoist edge. Select from the 195 countries of the world and proudly wave the national flag of your choice. Browse our most popular flags or search the full range today.
Hand Sewn National Flags
Lovingly drawn onto traditional fabrics, your flag is sewn by hand by a team of skilled artisan flag makers. Perfect for showcasing prestige and heritage, you can expect a fantastic finish and a durable appliquéd flag.
This original way to make a flag is a popular choice when looking for superb quality and a detailed piece of art. 
Dye Sublimated National Flags
Our dye sublimated national flags are the perfect choice for smaller quantities and offer a range of opportunities including complex and multi-coloured designs.
The flexibility of digital printing offers a world of choices and guarantees quality, no colour runs, and options including eco-friendly woven polyester fabrics.
Christopher Hulland
Good quality items entirely as requested delivered in good time. Can't ask for more!
Wayne Morley
Always an easy company to buy from and the delivery is also prompt
Jayne
Ordered a hand made flag on 27 May arrived at my home in Guernsey (only 2 weeks) on the 10 June. The flag is brilliant, thank you Flags and Flagpoles an amazing job and service especially during this crisis.
Anti-Fray
Anti-fray netting can be added to any flag to improve the flags longevity and prevent extensive repairs. The netting is sewn onto the flag externally to offer protection to the flags hem. The hem is the most vulnerable part of the flag due to the strain at which it is under, hence anti-fray is useful in reducing this.
Anti-Fray
Flag Change Service
To make a memorable first impression, make sure your flags are kept in immaculate condition. Our team can efficiently check, change and restore your flag on a regular basis. You tell us the frequency and requirements that work for you, and we'll provide a first-class service.
Flag Change Service