The Commonwealth Games are a multisport event, secondly only in size to the Olympic Games. Like the Olympics, the common wealth games run every 4 years and this year will be held in Birmingham, UK. 
To celebrate the event coming within 100 miles of our facilities, we've compiled a complete list of commonwealth flags, all of which are available in a range of sizes in hand sewn or printed.
Hand Sewn Commonwealth Flags
Hand sewn flags are made to MoD & Flag Institute standard patterns by cutting panels of the required colours from a roll of fabric, before being sewn together by our skilled flagmakers to create the official pattern. National flag designs with complex details will have a printed panel or badge added to the main field of the flag.
Dye-sublimated Commonwealth Flags
Dye-sublimated  flags are created using our state-of-the-art textile print systems and woven polyester flag fabric in our UK manufacturing facility. Chosen for strength and durability, knitted polyester is an ideal choice for anybody looking for a good value national flag finished ready to fly from your flagpole.
Sizing
All of our Commonwealth flags are available in a range of sizes;
0.75 Yard
1 Yard
1.5 Yards
2 Yards
2.5 Yards
3 Yards
3.5 Yards
4 Yards
5 Yards
6 yards
Finishing
Our Commonwealth flags are finished by hand with a headband rope and toggle as standard, ready to attach directly to a flagpole. The three exposed sides of the flag are finished with a strong double hem and a triple sewn hem on the fly edge for extra durability.
Frequently Asked Questions About Commonwealth Flags
What is the flag of Commonwealth Games?
The flag of the Commonwealth of Nations is the official flag used by and representing the Commonwealth of Nations and was adopted in 2013.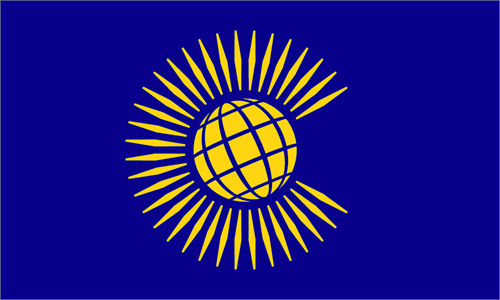 How many Commonwealth flags are there?
There are 54 countries within the Commonwealth, all of which have their own national Flag.
What size flag do I need?
If you are looking to order a flag of a Commonwealth nation and unsure what size you need, please refer to our choosing your flag options guide.